Kansas City BPU's Johnson Receives Kansas Municipal Utilities Award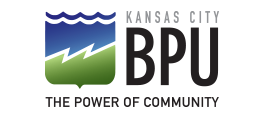 William Johnson, Manager of Electric Operations & Technology for the Kansas City Board of Public Utilities (BPU) was presented with the Edgar P. Schowalter Award by Kansas Municipal Utilities (KMU) the statewide association of municipally-owned and –operated electric, gas, water and wastewater utilities in Kansas.
Johnson was presented the award, the highest honor provided by the state association, at the 89th annual KMU conference in Wichita. The award is given annually to a manager, employee or policymaker of one of KMU's member municipal utilities. Making the presentation at the conference banquet was Robert Peter, City Attorney for the City of Ellinwood, Kansas and the recipient of the 2015 Schowalter Award.
Johnson has worked at Kansas City BPU for more than 30 years, working his way up from an entry-level IBEW bargaining unit position to an executive level management position. In March 2008, Don Gray, BPU General Manager, appointed Johnson Manager of Electric Operations.
His current responsibilities include directing all BPU Electric Operations services and activities, including transmission and distribution, electric engineering, information technology, fleet maintenance, telecommunications, and electric meters and services.
Johnson has taken a leadership role not only within his community, but within the municipal utility community across Kansas as well. He has served on the KMU Board of Directors since May 2009 and has also served on the KMU Executive Committee and KMU Advisory Committee. In 2012-2013, Johnson served as President of KMU.
In his presentation of the award, Peter noted that, "The recipient of the 2016 Edgar P. Schowalter Award is well deserving of the tribute. During his many years of service to his utility and to the municipal utility community as a whole, he has contributed greatly to the improvement of this association through the dedication of his time and effort."
Johnson's work for municipal utilities and their consumer-owners truly exemplifies the qualifications for the Edgar P. Schowalter award of not only bettering service in his community, but working as an advocate for all municipal utilities.
"It is particularly exciting to see Bill win this award, as this highest KMU award is named after a Kansas City BPU employee who impacted the state's public power community profoundly in the 1950s and 1960s," said KMU Executive Director Colin Hansen. "He is extremely deserving of the high honor and we thank him for his considerable contributions to municipal utilities across Kansas and the United States." - more -
The award is named after the late Ed Schowalter, who was a renowned leader in the municipal utility field, both in Kansas and nationally. Mr. Schowalter was employed by the Kansas City Board of Public Utilities for 28 years and was instrumental in the development of KMU.
Previous BPU winners of the KMU Edgar P. Schowalter Award include: Ed Schowalter – 1969 Paul Haas – 1979 Jim Widener – 1996 E. Leon Daggett – 2005 Joe Dick - 2005
Kansas Municipal Utilities (KMU) is the statewide association of community-owned and -operated electric, natural gas, water, wastewater, storm water, and solid waste and telecommunications utilities across Kansas.
As a non-profit association established by its member utilities in 1928, KMU is dedicated to serving the needs and interests of 170 consumer-owned utilities and the citizens, businesses and industries that they serve.